What is Baby Proofing?
Baby proofing does not in fact mean protecting your house from menacing babies lurking outside; it does instead mean protecting your newborn child from the many everyday menaces lurking within your house that could pose a threat to their safety.
One important consideration before you implement a lot of baby-protecting changes in your household is to think about the implications for everyone in the home.  You've probably been in the home of a friend or family member who has children and discovered you can't open a drawer in the kitchen or pass through the safety gate without having to ask for help from the parent.  The issue you need to consider is how to ensure your child's safety without total disruption to your smoothly running, stylish home.  Some products scream "baby here" whereas others can be more subtle and stylish while still safeguarding your new family member.
Getting Started:
We don't advise you wait until your little peanut has learned to crawl and pull him or herself up onto the furniture before you engage yourself in your new project of baby proofing.  It's a good idea to start looking at your house from a young one's point of view before they get moving.  Begin by getting down on your hands and knees and start to look for potential safety threats in your home. You will be surprised how much trouble you can get into in just 10 minutes of crawling around your living room and kitchen.  To save your knees a little, here's our beginner's guide on childproofing your home:
First, take a look at all those low level easy-to-open cabinets throughout the house. It won't be long before their contents are spread out, if not shattered all over the floor; moving parts, like cupboard doors, are immensely attractive to a little one.  If your
cabinets don't have locks, look for products to secure the handles that don't slow you and the rest of your household down too much from their chores while also preventing your newly mobile family member from accessing them.
By securing your cabinets, you probably blocked access to most, if not all, of the hazardous products (cleaning sprays, toilet cleaners, air fresheners, etc.) around your home. But to be safe, check around all the accessible rooms for other places you store potentially harmful products for your infant.
You'll be surprised at how many unsecured heavy or breakable objects you have decorating and enhancing your home – think large screen television sets on low reachable console tables, as well as lamps, glass ornaments and pottery on shelving units, buffets or side tables.  All of these can be an attractive place for your baby to lean on while trying to stay standing, or an attractive item to play with.  Consider ways to secure these items, or move them out of reach, if needed.
For many young children, harm comes in the form of sharp corners on furniture (kitchen tables and counters, desks and chairs) as well as architectural features (columns, poles, fireplaces and hearths).  Glass furniture, also, can result in a banged head or cut cheek without the normal visual cue of a solid surface.  For glass and other sharp corners, consider protecting edges with cushioning
products, as well as moving delicate or difficult-to-protect furniture into rooms protected by a safety gate or a lock.  Jamboo Creations has designed an elegant solution to baby proofing the fireplace with the HearthSoft, which protects your baby from the sharp edges of a hearth's brick, tile or other hard surface while also complementing your home design.
If you're like us, your electrical wiring probably isn't the neatest job in the home. But beyond having a tangled bunch of wires behind your TV, those cables and outlets are also a potential threat to wandering children.  You can purchase safety covers for all electrical outlets as well as wire protectors to conceal cables to protect your child from shocks. Rhoost provides a neat electrical outlet insert product at a reasonable price.
And there's nothing wrong with locking doors.  If you don't want to draw your little one's attention to the junk room at the back of the house full of sharp edges, breakable items and heirloom favorites, just keep that door locked.  Safety gates are great for places you regularly need to access in your home, but if you have some areas that you don't need to enter frequently, don't waste the money on childproofing accessories and just keep that area secure.  You can also use this space to put any items from the rest of the house that are not safe or too precious to risk while your child is exploring their new domain.
Was this article helpful to you?  Please share your comments below as well as any other recommendations you have for our readers.
I just watched a fascinating presentation by Simon Sinek about what he calls the Golden Circle, or Why we do what it is that we do! It turns our normal way of thinking about how we communicate about ourselves, our companies, our brands, etc. upside down. It forces us to first know why we do something, not just what and how we do something, which sets apart from others. You can check him out on TED.com and search Simon Sinek.

Some things in life are just too good to keep to yourself. Not that I'm a big fan of self-flattery, but when someone takes the time to write something nice about you, and does it in a way that makes you have huge belly-laughs at the same time, I just have to share.
So with that said, I present to you one of my favorite bloggers...really...she's very, very creative (thus, The Creative Junkie), very witty/funny and just a darn good writer. I present to you, Andrea, the Creative Junkie.
by Creative Junkie on October 3, 2010
As a blogger, my inbox is routinely inundated with emails me asking me to use my blog to (1) buy something; (2) promote something; (3) give away something; or (4) find out why the hell my brother hasn't gotten married yet for shit's sake, what in God's name is going on? Is he trying to kill me? WHAT'S WRONG WITH HIM?
Guess which ones come from my mother?
As for the others, I typically decline a majority of them because … well? To be honest, the offers just don't interest me and if I'm not interested, I just can't fake enthusiasm. This applies to all offers of roach spray, dehydrated fruit and sex at 3:30 a.m.
Guess which ones come from my husband?
An email that has a better chance of grabbing my attention is a request for promotion by a small business. I used to own one of those myself and I know first hand how hard it is to get your product "out there" without forking over at least one arm and one leg and leaving yourself all lopsided. It's really hard to promote your business when everyone thinks you're a drunk because you're constantly tipping over.
Last week, I received an email from Bill Maguire, owner of Jamboo Creations, a small company in the business of child proofing homes without implementing the Butt Ugly theory of design. And I figured, hey … helping a small mom and pop business, promoting style and curbing blunt force trauma to little human beings' heads? All at the same time? Sign me up! Because if this doesn't get Anderson Cooper to sleep with me, nothing will.
Jamboo Creations is the maker of HearthSoft™ which is exactly what it sounds like … a soft cover for your hearth. I remember sixteen years ago when my eldest was a baby, I gave my OCD tendencies free reign to childproof every single room in our house and I spent many an afternoon duct taping pillows and couch cushions and rolls of toilet paper and the like to anything in our house that had corners. And Dave, my husband at the time, was all "Ummm, where is our mattress?" and I was all "It's stuck to the fireplace." And he was all "Where am I supposed to sleep?" And I was all "On the floor. Safe and sound in the knowledge that our baby will not bleed out from a gaping head wound. YOU'RE WELCOME."
Jamboo Creations is offering a 10% discount to my readers – simply enter the code CJ10 when you purchase online. You can read about how Gina and Bill came up with the name Jamboo Creations here. And to those of you about to hit "send" on an email addressed to me, asking me to promote a 2 for 1 sale on coyote urine: calling your child by the name of one of the characters from the movie Monsters Inc., like Boo or Sulley or even Fungus or Bile, makes your email float directly to the top of my inbox for the coolness factor alone. Just a heads up.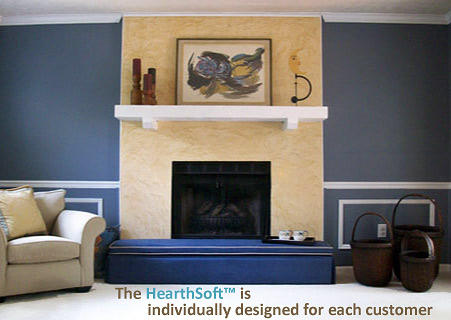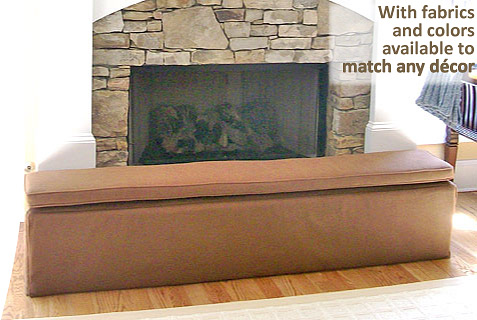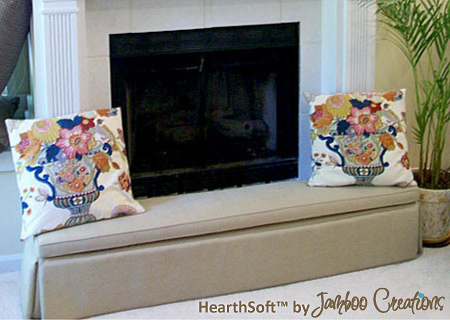 Happy Sunday, everyone!
A little info about the fabrics we use. 
We take our fabrics very seriously. They're selected because of their durability, ease of cleaning, safety, and, of course, because they look nice and are soft to the touch.
 I particularly want to point out the "easy of cleaning"  benefit. Believe me, this has been tested and tested first hand by us! Remember, my wife, Gina, first came up with the design shortly after our son was born - nearly five years ago. They've been through plenty of testing - if that's what you want to call it! We've not only built several of our own HearthSofts using this fabric, but we also upholstered our kitchen table chairs with it. The fabric cleans beautifully with a clean rag and water!
Here's how the official product description reads:
This is a 100 percent polyester face. It is woven with a pin dot pattern which gives it slight texture. The brushed finish is very soft to the touch and easy to clean. Suggested uses include window treatments, pillows, cushions, table skirts, shower curtains, bedding, residential and commercial upholstery.
 Product Information:
Construction: Dobby Fabric
Style: Plain / Solid Fabric
Fiber Content: FACE: 100% POLYESTER SCRIMBK: 80% PLY, 20% CTTN
Cleaning Instructions: WATER
Double Rubs: 30,000+ DOUBLE RUBS
 MANUFACTURED TO MEET THE FLAMMABILITY SAFETY RATING CONTAINED IN:
UFAC CLASS I
NFPA 260-PASSED
CALIFORNIA TECHNICAL BULLETIN #117, SECTION E (CS-191-53) CLASS I
Of course, you can always select your own fabric. If there's a particular fabric you like that matches your decor, simply contact us and send us a sample (instead of us sending you a sample), and we'll follow up with you. We're happy to work with interior designers or professional baby-proofers as well.
HearthSoft receives excellent reviews from customers and bloggers alike
There have been some very kind words said about the HearthSoft - both from customers and from a number of bloggers. This one is from a very cool site called "Are Muffins Ugly Cupcakes?" The site is every bit as clever as its name. You can check it out at www.aremuffinsuglycupcakes.com. Here's the review that Claire wrote, who I thought did an excellent job of capturing what the HearthSoft is all about. Enjoy.
By Claire. Filed in
Parenting
,
Product Review
  |   
Tags:
baby proofing
,
baby proofing a fire place
,
hearthsoft
I remember when the realization hit—parenting meant relinquishing our home's interior style to ugly baby-proofing products. Somewhere between hideous rubber bumpers and stark-white baby gates, I came to accept that child safety must override the chic home design we enjoyed before the baby came. Does it have to be so?
Not any more! Allow me to introduce HearthSoft™, a new child safety product that cleverly merges stylish interiors and plush baby proofing with a beautiful, cushiony solution.
HearthSoft™ addresses one of the worst problem areas for child safety at home: the sharp-edged area around the fireplace. As we all know, the hearth is a focal point for social gatherings, and is the centerpiece of many living rooms. Do you really need to lose its benefits once you have kids? I don't think so.
HearthSoft™ keeps the fireplace stylish and safe in two ways:
1. It adds a layer of protection for your little one around the hard surfaces and sharp edges of the fireplace.
2. It creates an attractive home furnishing piece that enhances the look and usability of any room, using durable, easy-to-clean and flame-retardant designer fabrics.(plus, it is available in 12 colors!)
Installation
Installing the HearthSoft couldn't be easier—It goes directly from the shipping box to the fireplace hearth, with no assembly required. The HearthSoft unit is custom-tailored to fit any hearth shape (even funky ones), and comes in twelve different colors. Of course, as a fireplace product, the HearthSoft is flame retardant. To top things off, the HearthSoft is easy to clean and store (when the kids are away or between babies).
The HearthSoft's price—just under 250 dollars, is not cheap. But again, this is more than a baby proofing cover. How much would you pay for an extra couch? Now, what if that same couch could help to keep your children safe? That's where the value kicks in. Hearthsoft comes with low, flat rate shipping and a 100% money-back guarantee.
Read more: Say "Bye-Bye" to Ugly Baby-Proofing! | Are Muffins Ugly Cupcakes? http://www.aremuffinsuglycupcakes.com/2010/08/19/say-%e2%80%9cbye-bye%e2%80%9d-to-ugly-baby-proofing/#ixzz0zJFcqn6h

Written by: P&N
With winter quickly approaching, keeping the hearth of your home safe for the littlest family member is a must. If you have a fireplace in your home, covering for the dangerous corners of the hearth usually means compromising style for safety...until now. 
We recently discovered the HearthSoft from Jamboo Creations, a chic alternative to ugly fireplace coverings of the past. By turning your hearth into an inviting, comfortable seating area instead of a blocked off, no-touch zone, you and your little one can once again enjoy your living area without worrying about a trip to the emergency room.
There seems to be a misperception among some people that the HearthSoft is constructed on top of some sort of platform - be it a wooden box or something along those lines. The fact is the HearthSoft weighs in around 8 to 9 pounds, and is made of 2" dense, flame-retardant foam and wrapped with Dacron, and then covered with a soft, easy-to-clean dobby fabric that, too, is flame retardant.
We ship the product in a 28" X 28" X 12" box. When received, the customer need only take the HearthSoft out of the packaging and place it on their hearth. No assembly, and no having to make adjustments to fit the hearth.
The original design of the HearthSoft was the brainchild of my wife, Gina, who like so many others out there, was looking for some kind of solution to protect our newborn son from the hard and sharp edges of our fireplace hearth. But unlike so many of the baby proofing products on the market, she wanted something that would look nice in our family room. In fact, our HearthSoft practically became the focal point in the room. Everytime someone walk into our home, they would ask where we got "that!"
The idea is this: baby proofing doesn't have to mean having to dramatically alter the look and feel of your home. You don't have to re-decorate the house in grey and taupe rubber bumpers and throw in some white You can, in fact, baby proof your home without everyone walking into your home and saying something like, "well, you know they had a baby."
New Products Merge Interior Design with Child Safety
Atlanta, GA- June 15, 2010- Every parent remembers when the realization hit them-parenting means relinquishing any sense of interior design to baby-proofing products that provide function with no form. Somewhere between hideous rubber bumpers and stark-white baby gates, most parents come to accept that child safety must over-ride the chic home design they enjoyed before the "it" couple became the cute little family.
Not any more! Jamboo Creations is introducing a line of products that simultaneously merges stylish interiors and plush baby-proofing! Jamboo's debut product addresses one of the greatest areas of concern for child safety at home: The sharp-edged area around the fireplace hearth, which also happens to be a major focal point for entertainment and family gatherings. The founders of Jamboo Creations and parents of a vivacious 4 year old, Gina and Bill Maguire, have blended the elements of design and safety into one unique and creative baby-proofing solution, with HearthSoft™, by Jamboo Creations- the first fireplace hearth cover that accomplishes two clever and essential objectives:
Add a safe layer of protection for your child or loved one (including those with disabilities) around the hard surfaces and sharp edges of the fireplace.
Create an attractive home furnishing piece that enhances the look and usability of any room, using durable, easy-to-clean and flame-retardant designer fabrics.
"When our son, Jack, was born, we scoured the internet and mass-market baby product stores for something more attractive and practical than those standard rubber corner covers, "says Bill Maguire, co-owner of Jamboo Creations. "After ending every shopping trip disappointed and empty-handed, my wife went to work creating the perfect hearth cover for baby. The response from our family and friends let us know that this was a vastly-needed product from which any family with a fireplace could benefit."
The company name is an acronym derived from combining the initials of Gina and Bill's son, Jack Allen Maguire, who the couple affectionately calls "Boo"…thus, Jamboo Creations.
Jamboo Creations has a blog!
Check out here for future Jamboo news and product updates.
.
.
.
.